The Healthy River Ecosystem AssessmenT System (THREATS™)

1. Introduction:
Under a 5-year software collaboration agreement with the University of Alberta, GREENLAND® International Consulting Ltd. (Greenland)
completed in January 2020 (and for use in Western Canada) the "Internet Big Data' version of THREATS™.
In 2021, additional upgrades were also completed by Greenland and via a concurrent University of Guelph software collaboration (and for over a decade).
As backgro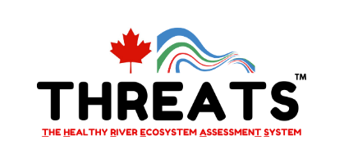 und (
since 2012
), the Government of Alberta (represented by Alberta Environment and Parks) and the Government of Canada (represented by Environment and Climate Change Canada) have worked as partners to implement an environmental monitoring program for the Oil Sands Region that integrates air, water, land and biodiversity. The program strived to improve characterization of the state of the environment and enhance understanding of the cumulative effects of oil sands development activities in the region.
In 2019
, the Oil Sands Monitoring (OSM) program began in collaboration with the University of Alberta. This includes a real-time assessment of current state, new and emerging priorities, as well as commitment to evaluating progress to date and integration across program areas. The mandate of the OSM Program is to assess change relative to a baseline condition for environmental indicators and to understand if impacts are occurring in the Oil Sands Region due to oil sands extraction activities.
While measurement of OSM change of individual key indicators is required, doing so uses a methodology that allows for assessment across indicators is also fundamental to understanding
cumulative effects.
Therefore, the
'Internet Big Data'
version of
THREATS™
was developed to address OSM Program objectives for integrated analytics and reporting to determine, based on both the work produced under the OSM program to date and other available datasets, where changes in unlimited environmental indicators may be occurring in the Oil Sands Region. The specific short-term goal of the OSM Program (and using
THREATS™
) was to identify these changes (if any). The secondary goal was to identify gaps in the ability to assess real-time change across environmental theme areas – namely, 1)
Water Quantity and Quality
in the Athabasca River Basin; 2) Province-wide
Pipeline Spills
, and, 3)
Air Quality
in the Wood Buffalo Region. Demonstration videos and sample applications in Ontario and Alberta are available. These brief videos introduce just a few (of MANY possible) applications that can be used by watershed management agencies; resource industries; and, utilities to access real-time and open data with any proprietary data. The platform also includes an extensive library of monitoring databases with proven science-based modeling and statistical analysis functions.
Ongoing development tasks include Machine Learning capabilities for river basin flow predictions.
2. Athabasca River Basin Flow Regime and Water Use:
The Flow Regime and Water Use tool evaluates a series of Adaptive Management Triggers (AMTs) for the Athabasca River identified in the 2015 Province of Alberta Surface Water Quantity Management Framework (SWQMF). The SWQMF considers water withdrawal reporting, water allocations and maintenance of sustainable flows for ecosystem health, downstream users and Indigenous navigation. The included charts and tables are designed to evaluate available data against the Adaptive Management Triggers (AMTs) outlined in the SWQMF.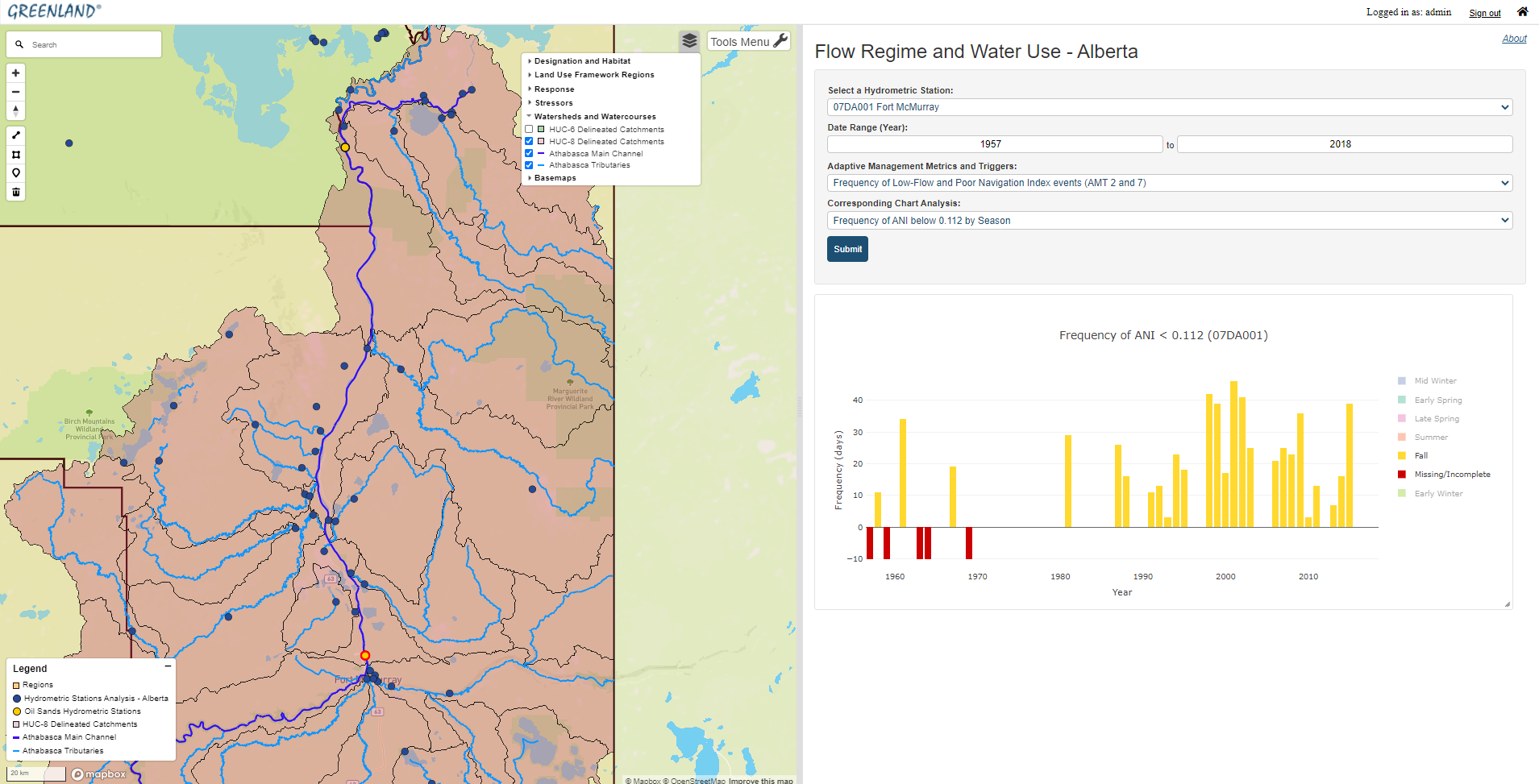 3. Water Quality (Athabasca River Basin)
The Water Quality Tool allows users to view available water quality data against applicable guidelines. Chemical parameter, location, guideline and time period filters are available to assist users in accessing data for the type of analysis required. Data from multiple locations can be added to the chart for comparison.
Further work is underway now to expand the platform to include the Peace River Basin.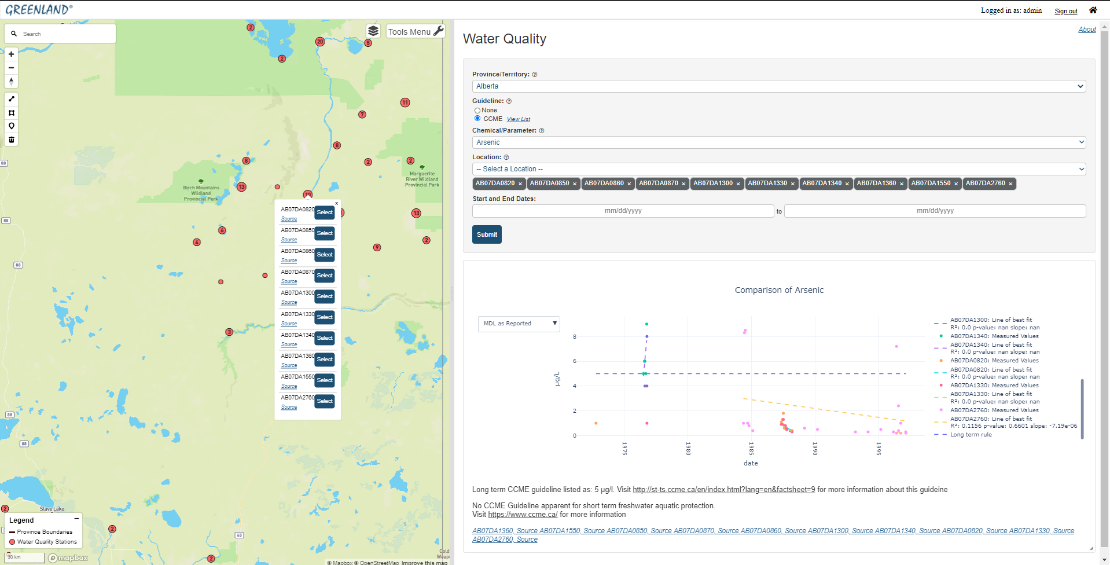 4. Air Quality – Oil Sands Region (Alberta)
This application compares available air quality data against the following framework guidelines:
Alberta Ambient Air Quality Objectives (AAAQO);
Canadian Ambient Air Quality Standard (CAAQS);
Lower Athabasca Regional Plan (LARP) triggers; and
Fort McKay Air Quality Objectives (FMAQO).
Data is automatically aggregated temporally according to the selected guideline requirement. Time series charts and trend analysis are provided. Mann-Kendall trend analysis is available for individual monitoring stations and chemicals.
To view a demonstration video of the THREATS™ platform, please click here.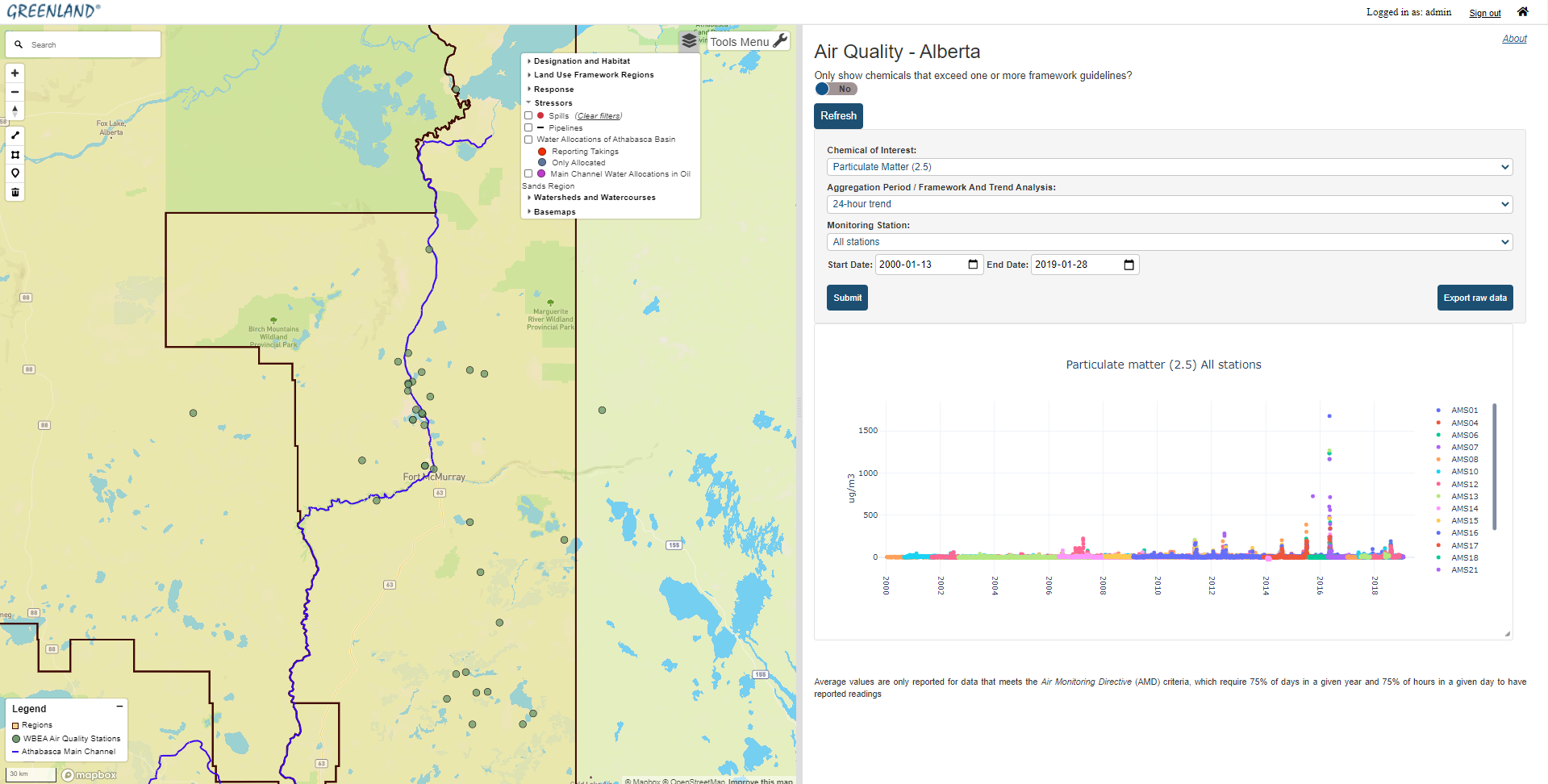 5. Alberta Pipeline Incidents and Trends
The Pipeline Incidents tool is designed to evaluate the number of pipeline related incidents in specific geographic areas. It can be used to identify trends in the frequency of incidents over time. It can also calculate an Environmental Performance Metric (EPM) where the number of qualified incidents per year is divided by the 2018 length of operational pipeline in the selected geographic area including designated sensitive habitat areas.
To view a demonstration video of the THREATS™ platform, please click here.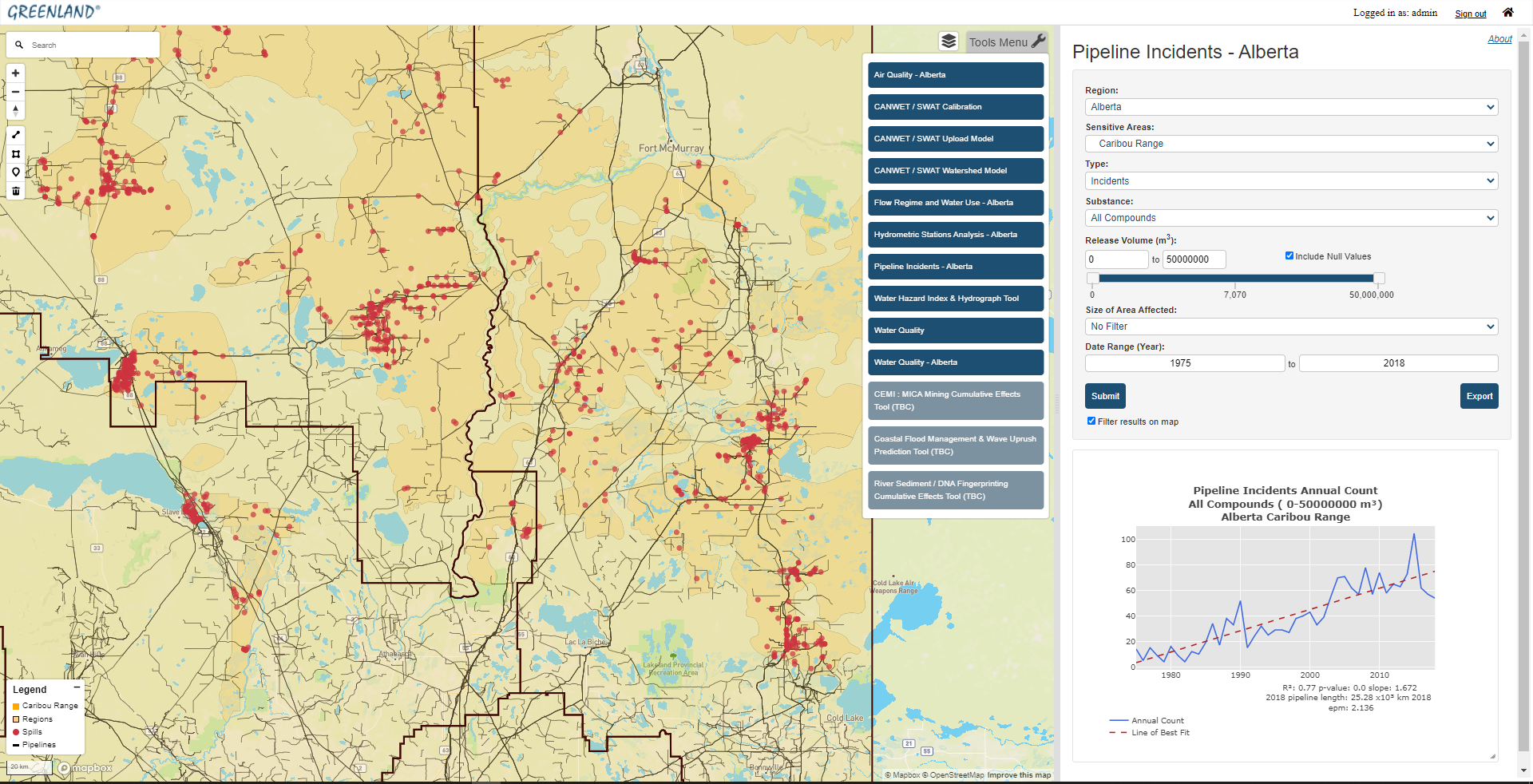 "Check out this (Greenland) video of THREATS (an open-source cumulative effects assessment tool to help direct environmental management (industrial or other)) and/or planning of future projects. It enables the compiling and juxtaposition of public environmental data (including, but not limited to, wildlife use areas and environmental quality data) with on-site or "targeted" environmental data. For security, the provision to include data protected behind a firewall exists to enable analysis and comparison of potentially sensitive data in the context of other datasets. The goal here is to allow for predictive capability and in turn mitigate potential effects. Equally, this provides a capacity to enable retroactive assessment (investigation of cause) of observed changes. The ability to spatially interpret stressor/pathway/receptor data, and conduct analyses within the tool, while retaining data in its original database (secure) is what is truly unique here. Excited to see what can be achieved with this powerful platform in areas where it has already begun to be used!"
- Neal Tanna
Advisor, Monitoring and Risk Assessment
Canada's Oil Sands Innovation Alliance (COSIA)
November 3, 2017
For more information about THREATS™, licensing details or participating in a future webinar demonstration, please contact Greenland.THREATS@grnland.com.

We would also welcome opportunities to further develop THREATS™ for specific client needs and with other teams that have complimentary information technology services.